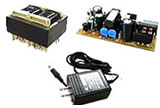 Head Office
6-1-5, Kamihigashi, Hirano-ku Osaka
547-0002 Japan
Tel. +81-6-6791-8151
Fax. +81-6-6794-3434
| Reactors for Active Filter | High Current and High Frequency Reactors for Prevent Harmonics | Reactors | Choke Coils for Prevent Harmonics | Normal-Mode Choke Coils | Common-Mode Choke Coils Line Filter |
Common-Mode Choke Coils Line Filter
Protects primary AC side from being affected by a switching regulator.
Eliminates noise emission of ultrasonic equipment.
Eliminates electrostatic noise of power and signal lines.
Eliminates contact noise
Eliminates incoming spike noise for ICs and equipment using microcomputers.
Temperature Range(℃):-25〜105.
Applications : Personal Computers, Auto Machines, NC Machines, Fax, Communication Equipments, Electronic Equipments need noise elimination function.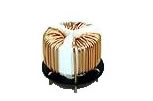 Common-Mode Choke Coils Line Filter Catalog (136 KB)