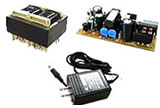 Head Office
6-1-5, Kamihigashi, Hirano-ku Osaka
547-0002 Japan
Tel. +81-6-6791-8151
Fax. +81-6-6794-3434
| Switching Power Transformers | Pin Transformers | Thin Pin Type Transformers | Lead Transformers | Thin Lead Type Transformers | Low Frequency Transformers |Current Transformers |
Current Transformers
Current transformer exceeds in its temperature characteristic, and silicon steel plate core can minimize voltage deviation.
As for the material, the high μ ferrite core is used, which is suitable for wide band frequency ranging from 50Hz to 100kHz
We can supply varieties of current transformers applicable to low voltage and high current, which use toroidal ferrite core.
Applications : Electric Power Meters, Water Measurement Meters, Security Alarms, Control Instruments, Measurement Instruments.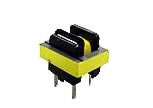 Current Transformers Catalog (360 KB)